Seamen's Church Institute of Newport
ORGANIZATIONAL MISSION AND WORK
The mission of Seamen's C

hurch Institute of Newport is to provide men and women of the sea, and persons referred from the community, a safe haven in which they may find comfort, benefit and aid.
Newport is and always has been an important seaport. With changing times, dying industries or the cyclical nature of a seasonal community, the socio-economic structure is constantly in flux and the problems faced by those seeking services are situational and personal. As a human services agency, our core programs complement each other to ensure basic human needs are met first before reaching out to find solutions to underlying problems. Our doors are open 365 days a year and on the waterfront for 95 years. We are known as a vital resource and have the flexibility to react in a crisis and then reach out to solve problems.
In 2013, we aided just over 40,000 people from all over Rhode Island and those arriving at the waterfront seeking assistance for human services including help for basic human needs such as food, shelter, prescription or medical bills. We provided 1132 nights of on-site lodging, 611 at no cost and 521 at a significant, affordable discount. In addition, we provided financial assistance for families to stay at area hotels in emergency situations, helped stop heating or electric shut off, rent emergencies, security deposits, bus passes, clothing, cell phone minutes and so much more. Our building offers a library, lounge, café, showers and laundry. We provided over 6,000 community meals, some daily, some during the holiday season when food pantry and meal sites are closed and a twice a week delivery of soup and bread directly to the docks in Newport.
We serve as a vital resource to the seafaring community. Families living on boats who home school their children, a crew member arriving in town needing legal assistance, crew left off in port with nowhere to stay, a fisherman who couldn't afford the fuel for their boat, or the lobsterman co-op. concerned about the reduction of their fleet due to legislation. We provide gear, warm clothing, shelter or advice. Bottom line – we play a pivotal role in an intricate coordination of services.
In 2014 we have reorganized our Core Programs to maximize their efficiency and allocate the proper resources and time to each of the programs. Although presented independently, the examples provided above show the crossover in services depending on individual needs.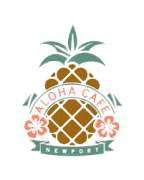 Community Meals Program: An onsite venture, the Aloha Café acts as the conduit to feeding those in need. By far our largest program, we feed thousands of people each year. Whether it is a cup of coffee or ensuring people have access to warm soup and hot beverages during a storm, we are able to react to the immediate needs in house, direct to the docks or by complementing the meals provided at local soup kitchens.
Lodging: Our second social enterprise, the Crow's Nest lodging which provides our basic rooms to the public to help offset the costs of housing those needing shelter, be it a local person facing a difficult

situation, a transient boater, displaced fishermen or mariner, veteran or military. These people usually access our other services/programs while staying with us. It is a short term solution as we work toward a more permanent placement.
Human Services: By far the most time is spent in this program assessing the needs and reacting to the current crisis while reaching out to our community partners for more comprehensive services. This is the portal to all services and referrals. This program addresses needs as simple as providing a shower and toiletries to finding solutions to complex problems.
Education, Enrichment and Outreach: Our newest program interacts with our other programs by offering a window of opportunity to address some of the barriers to self-sufficiency in our constituency. We provide access to workshops, lectures and educational opportunities designed to overcome and prevent a crisis.