Seamen's 99th Annual Meeting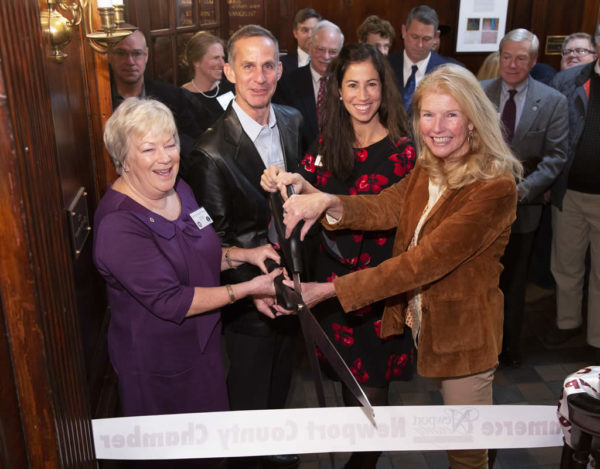 Seamen's hosted their 99th Annual Meeting on November 12th, 2018 including the ribbon cutting for the new marine industry exhibit The Discovery Deck
Discovery Deck
Seamen's Church Marks 100th Anniversary
By James Merolla at Newport This Week
The Seamen's Church Institute is open 365 days a year, with a devotion to those who work on the waterfront, like lobstermen, fishermen and transient boaters, clients who need a roof, a shower or an inexpensive meal and Newporters who need heat, a place to stay, or help with bills.
It has been that way for 100 years. And in 2019, Seamen's will commemorate that rich history.
"We will be celebrating our centennial with a variety of appreciation events to honor our constituents along with a great lineup of speakers and several fundraising events throughout the year," executive director Rebecca Northup said.
Founded by parishioners of Trinity Church, Seamen's began in 1919 as a place for sailors to gather and socialize. In 1930, through the generosity of the Wetmore Sisters, the building on Market Square honoring their parents was donated. Seamen's has been the only occupant since.
An original mural map of Narragansett Bay greets visitors upon entry, and a grand staircase winds to a maritime library on the second floor, where there are photos of friends and mariners who have died.
The magnificent library, with thousands of seafaring books, was dedicated a few years ago to Henry H. "Harry" Anderson, now 97, the former commodore of the New York Yacht Club, a longtime board member who is still active in institute affairs.
Off the library is The Chapel of the Sea, with its series of fresco paintings and gorgeous bas relief in wood, serving as a spiritual center for contemplation. There is also the peaceful Memorial Garden on the street level.
The murals, painted by Newport artist Durr Freedley in 1933, depict scripture or saints. "Crow's Nest" located on the third floor, offers affordable lodging to the public. The ten rooms were originally designed as a dormitory for sailors and fisherman.