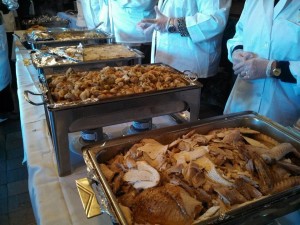 According to the USDA, food insecurity is defined as any household that is uncertain of having, or unable to acquire, enough food to meet the needs of all their members because they have insufficient money or other resources for food.
Seamen's Church Institute address this very issue each and every day. Our onsite, Aloha Café serves as a portal to those seeking assistance on a daily basis. When faced with someone who is hungry, we are able to immediately react with a nutritious meal. Often times, that one gesture lends itself to identifying other basic needs.
More and more people struggle to meet the demands of rising rent, utility bills, medical and prescriptions and then face the difficult choice of choosing heat over the purchase of food. If we can, we assist with supplemental food supplies, gift cards or referrals to food pantries.
Our Soup to the Docks Program brings a hot meal or soup directly to the docks in Newport. By reaching out to the waterfront, we can further identify the needs of the fishermen, lobstermen and other waterfront workers who are often faced with difficult winters.
We collaborate with other agencies during the year to support the local soup kitchens and during the holiday season. When pantries and soup kitchens take a break, Seamen's steps up to host three community meals. These meals serve upwards of 300 people at each event.
This past winter, Seamen's stayed open as a safe haven during the brutally cold storms that brought below zero temperatures. We provided soup and hot beverages throughout the night and during the day for those needing to come in out of the cold.
In the last year Seamen's has provided 12,197 meals.