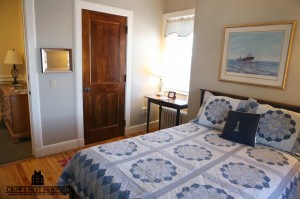 Seamen's Church Institute historically has offered lodging to mariners and those facing difficult times. In 2010, Seamen's Board of Directors committed to a capital campaign to renovate the building making it fully accessible and at the same time restyled the third floor rooming facility into a lodging facility called The Crow's Nest.
The public is now able to stay at our facility on Bowen's Wharf and in doing so contribute to our­­ mission. Funding generated by the Crow's Nest allows us to provide rooms for those who need a transitional place to stay while seeking a longer term solution.
This third floor facility serves as our Lodging Program and complements our other programs of tending to basic human needs. True to our mission of providing safe haven, in 2013 we provided 1,132 nights to individuals; some for free and some at a greatly reduced, affordable rate to help bridge the gap until more suitable housing is found.
Visit the Crow's Nest lodging to view the rooms and check the availability. For more information call us at 401.847.4260.